A walk through the wild listening to the bird calls, drinking in the lush green beauty of the mountains enveloped by a thick aura of mist, feeling the teasing of water of the gurgling streams underneath your feet…Just WOW!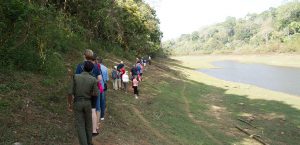 Nature Walk or Trekking in Thekkady is just this & more! It gives you a once in a lifetime opportunity to watch birds, butterflies, and other wildlife in their own habitat. The trekking trails wind through evergreen and moist deciduous forests with marshy grasslands scattered in between. The Nature walk brings you closer to nature in all her glory!
The Periyar Wildlife Sanctuary in Thekkady is famous for its dense green forests and exotic wildlife. Here, there are diverse trekking programs available that cover 4-5 km and can be completed in 3 hrs. The trekking trails often pass through evergreen and moist deciduous forests and grasslands. The trek costs Rs. 300 per person and a group can have a maximum of 4 persons.
The ruined Mangaladevi temple in the middle of the Periyar Sanctuary is a favorite destination for trekkers. The 12 km trek (one way) to reach the temple is a great way to experience the beauty of the Periyar Tiger Reserve. It is a highly recommended experience for trekkers!
Border Hiking in Thekkady is a full day trekking option. It is a conservation-oriented hard trek that starts at 8 AM and ends in the evening. The trekking route winds through undulating terrains & maximum 10 tourists can participate in the trek dispersed in two different groups. Two guides and an armed forest guard will accompany the trekkers on the trail. Few Hotels in Thekkady also arrange trekking in Thekkady tour packages.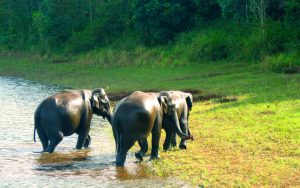 Jungle patrol is a 3 hr. night trek program intended to conserve the forest. Only brave-hearted persons with proper physical and mental fitness to trek through the wilderness in the night can participate. Two protection watchers and one-armed forest guard will accompany the tourists.
Before going for trekking, trekkers must obtain prior permission from the wildlife authorities. The most famous trekking routes are Kurisamala to Kumily and Kumily to Pandikuzhi. Pullumedu, Kurisumala, Ottakathalamedu, and Grampi are also prominent trekking bases in this area. Daily treks conducted by the Forest Department are available from the Thekkady Boating Point to the Nellikkampetty area and Manakkavala.