Thekkady beckons to you
Thekkady is a scenic green haven in Kerala abundantly blessed by nature. It welcomes visitors with its miles and miles of greenery and the spice-laden breeze gliding down from its misty hills. Thekkady has a salubrious cool climate all seasons and its picturesque vistas, lush greenery as well as the Periyar wildlife sanctuary teeming with exotic flora and fauna attracts tourists from far and wide. The exciting tourist attractions and the green environs of Thekkady have made it a much-visited holiday destination in Kerala, India.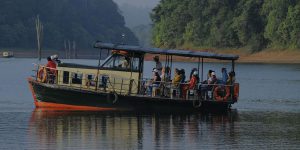 Which is the best time to visit Thekkady?
Summer Season (March-May)
A hot and humid climate exists in the Summer with temperatures ranging from 26°C to 36°C. But people who wish to see the animals at the Periyar Wildlife Sanctuary can visit at this time as thirsty animals come down to drink at the lake.
Monsoons (June- September)
There is heavy rainfall in Thekkady in the monsoons and is impossible to conduct trekking and sightseeing in the Monsoons.
Winter (October- February)
The weather is mild and pleasant in the winter season and is perfect for sightseeing and adventure activities.
What to do in Thekkady?
When you're in Thekkady, you can go for Nature walks, Bird watching, Bamboo Rafting, etc. or an early morning boat ride in Periyar Lake. The spice plantation visits in Thekkady are famed world over and are a great way to experience spice cultivation, take part in it and buy exotic spices. Extensive tea estates cover the slopes of Thekkady. Rubber, Cardamom, Vanilla & Coffee plantations also dot the slopes. There are more to do activities in Thekkady. 
Best tourist attractions
The wild beauty of Anakarra & Murikkady mesmerises you in Thekkady. Thekkady is famous for its enthralling waterfalls & the Mangala Devi temple. You can get to watch gorgeous sunsets at the Chellarkovil viewpoint. Experience the rich folk-art tradition of Kerala like Kathakali shows, Tribal dances, Martial arts etc and sample the exotic cuisine of Kerala at Thekkady. You can view the beauty of Thekkady while going on the Elephant Safari.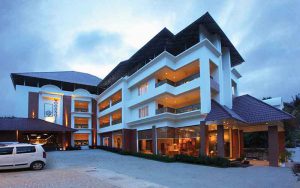 Book your accommodation during off-season times and get huge discounts on bookings. If you are looking for a good hotel in Thekkady, Woodnote, Thekkady is your perfect choice! As the best hotel in Thekkady for family holidays and honeymoons, Woodnote Thekkady offers great amenities for you. Book with us today!