Nowadays spending a weekend in a special and unique way is the trend. Visiting different places, engaging in activities, sightseeing, exploring new places, attending events and a lot more fun to do on the weekend. Weekend visitors have lots of things to do in a limited time period. Here you will be guided for a trip to explore Thekkady on the weekend. Surely you would appreciate some of our local recommendations. Happily, you can spend 48hrs in Thekkady with the following list.
Scheduling your weekend plan in Thekkady:
When you are traveling, pack your things according to your stay. You need to pack your clothes, jackets, trekking shoes, sun-glasses, extra pair of undergarments, towels, medicines. All your toiletries, blankets will be given by the hotel. Preferably less luggage will be comfortable. So pack smartly. As it's a weekend, you need to first book hotel in Thekkady in advance. This is the most important part of your travel. Thekkady is a tourist spot with lots of travelers, visitors, families, honeymoon couples, etc. Stay in a hotel which offers Thekkady tour packages will be an advantage. They will be aware of local places and the timings you can cover maximum places.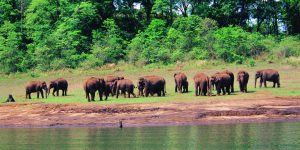 In Thekkady, you have safe outdoor adventures like boating trekking, waterfalls, elephant junction, jeep safari, bamboo rafting, skywalk, etc. Thekkady is well known for Periyar Wildlife Sanctuary. It is the best destination for adventure lovers. You can spend nearly half a day in getting to know animals especially elephants and activities. Here you can see elephants bathing, take an elephant ride, visit green plantations.
The open jeep jungle safari is a very thrilling activity. The jeep has a seating arrangement for 4 people. As the jeep dashes in the dense jungle, you can enjoy the flora and fauna of Thekkady jungle, big trees, and the odors of the forest. You will be to find a new enthusiasm inside yourself. Jeep Safari is the best way to read the jungle.
All of us love to be soaked in water. So on the way of your trip, many waterfalls attract your attention and you can get soaked right under the water. Splash in the water and enjoy a great photoshoot.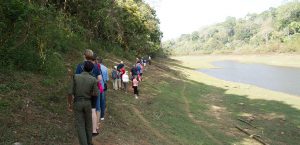 You can go on a trekking and walk to the waterfalls, take a bath and enjoy.
Visit museum and Periyar Tiger reserve and also enjoy boating there. Boating will take allow you to see wildlife like elephants, sambar deer, gaur, boar, and many animals. We wish you a happy Thekkady tour.