Is there anything in common between Manakins, the small bird category from South America and the tribal dancers in Thekkady, Kerala?.
Yes, the dance performances of these tiny birds and the indigenous tribe people are uniquely created. Manakins, the very cute, charming birds are one among the most beautiful creatures in the world. Ornithologists like Richard Prum adore their ability to dance, especially the performance displayed by the male manakins to attract their partners just before their mating. I searched them on the internet. Speechless I became, seeing their movements. These lovely birds are adorable. Their musical voices, the heavenly combination of multi colored feathers, elegance in appearance, crisp walk, and above all, the choreography of these little birds conquered me thoroughly.
In the same fashion, a group of dance performers added plentiful to my aesthetic sense. I watched a dance sequence of tribal group at Thekkady wild sanctuary, one of the best tourist spots in the world. Tribal dance is a rarity and certain features such as, different colors painted in their body, their moon walk, golden decorations on their head, the joyful voices, and the exuberant display reminded me manakins.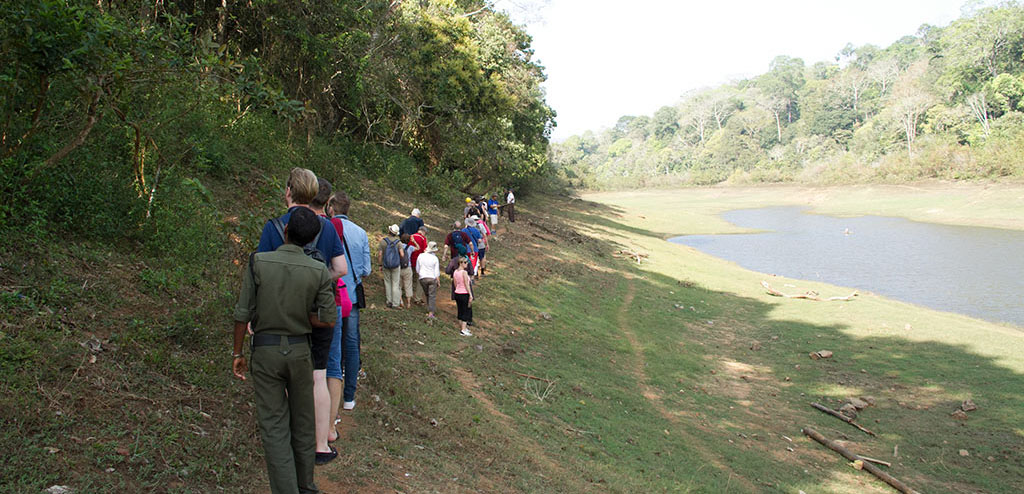 Getting Around
The reason I chose Thekkady as my destination for this time is simple, the ease of access to Thekkady from different places like Tamil Nadu, Thiruvananthapuram and Ernakulum. Kerala is comparatively a small state in India; it only takes a few hours to reach Thekkady from any part of Kerala. Anyone who travels from Ernakulum (Kochi) can reach Thekkady by public transport or car. However, you can't expect a train to this hill station.  The journey will take five hours. If you start from Thiruvananthapuram, Kerala's capital city, you need around eight hours to reach here.
Costs
Accommodation and restaurant food are not that expensive from a European point of view.  Thekkady has all kinds of resorts and hotels matching your requirements. There are number of 3/ 4 star hotels and resorts available.
 Our Family Resort
I searched for a family resort in thekkady, so I took Wood Note, a new posh resort with all the luxurious options. Wood Note is located in the heartland of Thekkady, on the way to Mangaladevi temple.
We reached Wood Note by 2pm. We had our lunch and as planned earlier we were getting ready to boating on Periyar River. Soon the manager of the resort informed us about the tribal dance, which is not very common these days. If we had any plan to watch this, he could arrange a vehicle for us, said him. We agreed, thinking that this would be different experience. Watching a performance by the aborigines in this place would be overwhelming.
 Periyar Tiger Reserve –Abode of the indigenous population
Different tribal communities have been living in the forest of Periyar wild reserve, since the construction of Mullaperiyar dam. When the British government started building a dam across PeriyarRiver in 1886, this tribal population needed a new place to relocate. They decided to move inside the forest and settle there. Kerala government supported this population of tribes to redraft their lives. They formed many colonies inside the reserve. Communities such as the Mannans, Paliyans, Malayarayans, Malapandarm, Uralis and Ulladans are the major tribal categories who settled in this area. Among these groups Mannans and Paliyans are the two dominant groups. Mannankudy (colony of Mannans) and Paliankudy (colony of Palians) are the main colonies where tribal dances are performed as part of rituals and festivals. Our programme was scheduled to be conducted at Mannankudy.
Way to Mannankudy
We started to Mannankudy by 3 pm. Our guide 'Muthu' was waiting at the entrance of our resort. He belongs to one of these tribes. As he is multi-lingual he could translate everything to us. Christopher, my four year old, found a comfortable seat on his shoulder. Being a native tribe, he showed special interest to describe each and every object that came in front of him.
Bird Species
Periyar Tiger reserve is abundant with bird variety. There are 265 species of birds including migratory birds.  Malabar hornbill, Grey heron, raptors, water birds, wild pigeons, jungle fowl, jungle mynah and woodpeckers are a few of them. Snake birds and Cormorants are spent most of their times in the lake. They have a piercing call that can be heard from a distance.
On the way we sat in the bush for listening to the voices of birds. I became dumbfounded listening to them. Even now, I am unable to convey the feeling of ecstasy I had received from that wilderness. Muthu, our native guide and translator was very helpful. Admittedly, my knowledge is too primitive to differentiate the sounds of birds. The timely briefing of Muthu added our nature knowledge. Anyway, the sounds of the plants, animals, moving water, and many other esoteric elements in nature literally enriched my life.
Our native guide described how animals behave in different situations– their specific behavior patterns, habitats and other significant life lessons of animals were also explained explicitly.  We all wondered at the extraordinary skill our guide had possessed to memorize the names of these animals, birds, mammals, reptiles and invertebrates when most of us struggling to remember the names of birds and other species that we see locally. While we continued our journey he spoke relentlessly, trying to educate us.
Dance Performance of the Indigenous People
We reached Mannankudy. Although we could go to the performance by boat we ignored that option, instead chose crossing a mountain by walk. Again, for this, we took a different route, a rough footpath, not accessible to any kind of vehicle. Tantalizingly, when we reached the top of the peak, we were able to see the entire region of Thekkady, including the River Periyar. In five minutes time we reached Mannankudy, the tribal village. We were led to a large ground similar to a football ground. Local native people assembled there to watch the amazing performance by the artists. The raised platform, where the dance was supposed to be enacted, was decorated with different variety of flowers. The aroma of unknown wildflowers spread everywhere. My wife Rani and son Christopher seemed jubilant even so they just finished an arduous journey. I could trace many nationalities including British and French among the guests gathered there. They were all accompanied by resort staff and native guides.
We heard a whistle to start the programme. Suddenly, I noticed a movement among the native people. They all stood up silently. The Mooppan (leader of the village) entered in. He held a long specially designed stick with him. Following this, the artists walked in one by one. The dancers belong to both sexes. They all lined up and slowly walked to the Mooppan, bowed before him. He knocked their head with the stick and poured a liquid to drink in an earthen cup. I suspected something hallucinogenic effect. After this, they all disappeared behind a curtain.
Then another whistle was blown. The performance began; a man appeared and announced something in their vernacular. The guides started to translate the announcement. The upcoming performance was about a valiant warrior who sacrificed his life to defend the enemies.  The dancers appeared on the stage, one by one, stood facing the East, as if they were invoking one of their Gods. They wore dresses dominating yellow and red color. The leading artist wore a black and white gown like apparel. They moved elegantly. We all could spot a grace on their faces.
The songs described the features of valiant heroes, rocky fields and outcrops, springs, mountains, valleys and other physical features of men and the fertile lands. Songs were sung by elders and youngsters, men and women.
The performance was really outstanding. The dance revealed generally either the acting out of some mystic stories or presentation of personal experience. The spontaneity in their movement was remarkably laudable. The audience including the natives and non-natives appreciated the performers. The tribe Mooppan blessed them all.
We enjoyed the dance movements so much. This was really a feast for us – a much unexpected and extraordinary one.
I adore the landscapes—the planes and hills of Kumily, green lush and wildflowers of Thekkady, the umpteen variety of birds and myriad categories of animals, the innocently smiling natives and  ever memorable performance of the artists.
At least, for me, they are the Manakins of the Periyar Tiger Reserve.
Best time to visit Thekkady
Thekkady welcomes visitors all through the year except June and July. Star hotels and Resorts are waiting to receive guests during these months.
Other Major attractions in Thekkady
Periyar National Park, Suruli falls, Mangala Devi Kannagi temple, Parunthumpara hill view point are other important places tourists can visit in Thekkady.